Cette publication est également disponible en :

Français
After several years' experience in the industry, Karine Torrent founded Floratropia, her own brand, in 2019. She opted for 100% natural perfumes, both for artistic and ethical reasons. The first creations launched in 2020. Interview.
What was the idea that inspired you to create the brand?
Working in the perfume industry, I realised it had trouble evolving and tackling today's ethical issues. So I wanted to lay the foundations for an ideal brand, combining perfumers' know-how with sustainability and rethinking every stage of the product's value chain.
I created Floratropia to 'rewild' perfume on two levels. Artistically, by reconnecting perfume to the wild beauty and raw emotion of naturalness, with a slightly earthy approach to raw materials and bold, unusual, unformatted compositions, taking us on a journey into the botanical dimension of perfumery and opening up new olfactory horizons for fragrance lovers.
And ethically, with a model fully focused on sustainability and the living world. We aim to have a positive impact on the planet with carbon-free perfumery — without any of the synthesized inputs that remain mostly petrochemical, even today—and to offer as many outlets as possible to perfume plant growers. To make sure what we do is virtuous for our ecosystem, our materials are certified organic from traceable sources, with ethical partnerships that promote good environmental and social practices. It's our way of making sure we actively support the fragile ecosystem that perfume plant biodiversity is part of.
We are also helping make producer communities more resilient in the face of the climate upheavals they face today, and will face even more starkly tomorrow. And we have redesigned our packaging to cut products' carbon footprints: our bottles are lightweight and refillable, use few resources, need no overpack, and we collect them so that they can be recovered and recycled.
How did you choose your perfumer, and how did you go about developing your products?
Meeting with Delphine Thierry, our perfumer, was a decisive moment in creating the brand. Her in-depth technical knowledge of this type of formulation made me realise that 100% natural artistic perfumery was entirely possible. Stimulating interest and initiating meaningful transition demands more than just being environmentally aware; what's critical is having wonderful compositions that are appealing. As for the development process, our brief was clear from the beginning: to stick strictly with ingredients that are natural and sustainable. I'm in charge of creative direction, in consultation with Delphine, who has a real flair for bringing a brand vision to life. As a duo it works wonderfully well: we really do understand each other, which cuts down on all the back and forth — I'd say no more than a dozen times on average.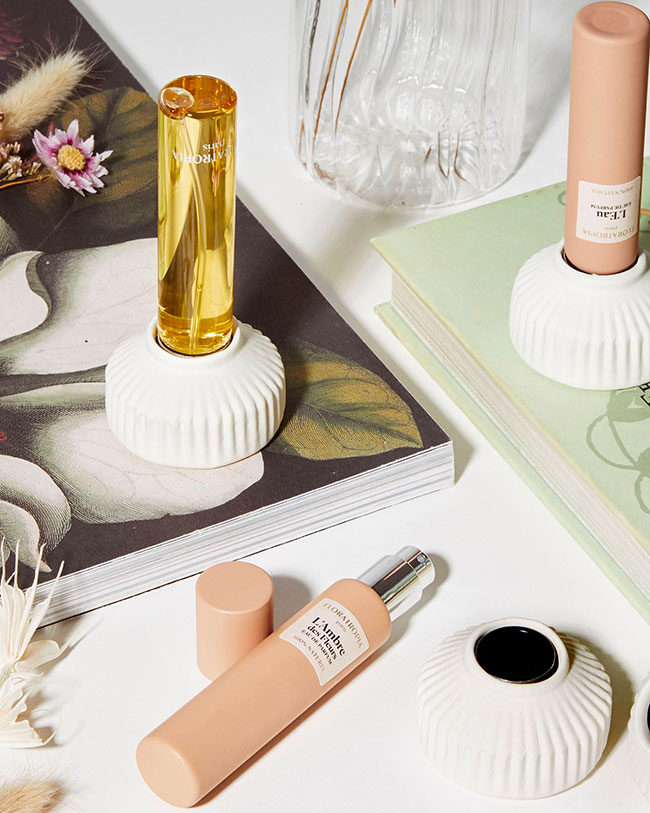 To what extent are you guided by the market when creating new products?
We stand outside any the industry's traditional market trends, following our own artistic direction focused on rewilding perfumes, exploring and helping people to discover the beauty of the natural, the power of materials in their raw state. When I'm thinking about upcoming creations I just let my imagination and intuition run free, there's no marketing strategy involved. What counts is offering the market something that's new and creative, goals that were particularly helpful when developing Ambre des fleurs. Amber is a perfumery classic and a well-known archetype, and we wanted to bring our brand personality to it.
Where are your target markets?
Our target markets are in Europe: Italy, Spain, Germany and the Nordic countries. Our fragrances are not distributed in the USA or China as yet, although that's our medium-term objective, particularly when it comes to China, a country I love after living there for three years.
At first sight, certain markets seem less suited to our brand, like the Middle East, as our minimalist approach to packaging differs strongly from local standards. But it's a really buoyant market with customers who are very curious and passionate. It could turn out to be full of surprises.
What do you hope to get from your presence at Esxence this year?
Esxence will offer us an international shop window. It gives us a chance to tell people about the brand, to get a sense of the various markets and to see how they react to the Floratropia universe. We also hope to extend our distribution channels. Although online retail is an ideal vehicle for expressing what's so unique about our approach, going forward I want us to be more present in bricks-and-mortar stores too. This will probably take time, because our focus on the natural is still not an industry priority —something we are determined to change! Our commitments and positions can also seem very new and radical to many retailers. There's a lot of talk about ecological transition, but independent perfumeries are still pretty hesitant. Many of them still feel that a fragrance is an artistic creation whose primary role is to make people dream. Focusing on ecological considerations can seem incompatible with that role. It's a new narrative we need to invent. And that's exactly what we're trying to do, by embedding a genuine artistic process at the heart of our model. In my view, 100% natural perfumery is the new niche in perfumery.
—
REPORT « NICHE AND CONFIDENCES »