Cette publication est également disponible en :

Français
In New York's first gallery specifically designed to present odors, Olfactory Art Keller, artist Camilla Nicklaus-Maurer presents an immersive project, a multi-dimensional tribute to Andy Warhol and The Factory.
In February opened in New York the very first gallery entirely dedicated to olfactory artworks – sculptures, immersive installations or experimental perfumery projects. Olfactory Art Keller was named after its founder, doctor in philosophy and neurobiology Andreas Keller, and settled in the Two Bridges neighborhood, right by Chinatown. A daring yet committed bet in the midst of a global pandemic that has notably caused an unprecedented, widespread wave of anosmia cases!
While each art related to a sensorial modality had its own specific premise (concert hall, theater, museum, restaurant…), it's the first time that an exhibition space is specifically designed to present odors – which is something that many artists, curators and researchers have called for these last few years faced with the exponential growth of olfactory practices (for instance in Les Dispositifs olfactif au musée, published by Nez éditions in 2018). Traditionally, the  white cube of the gallery, that has become a norm in the art world, is dominated by the modernist paradigm of visual hegemony and is little prepared, either ideologically or materially, to welcome smells. Displaying olfactory art indeed means confronting several spatial temporal, and climatic challenges. Because whether they were conceived in this intent or not, olfactory works always have a strong tendency to monopolize space. This is why Andreas Keller implemented an efficient climate control system which allows him to manage air circulation, and therefore to contain, animate, or extract odors effectively.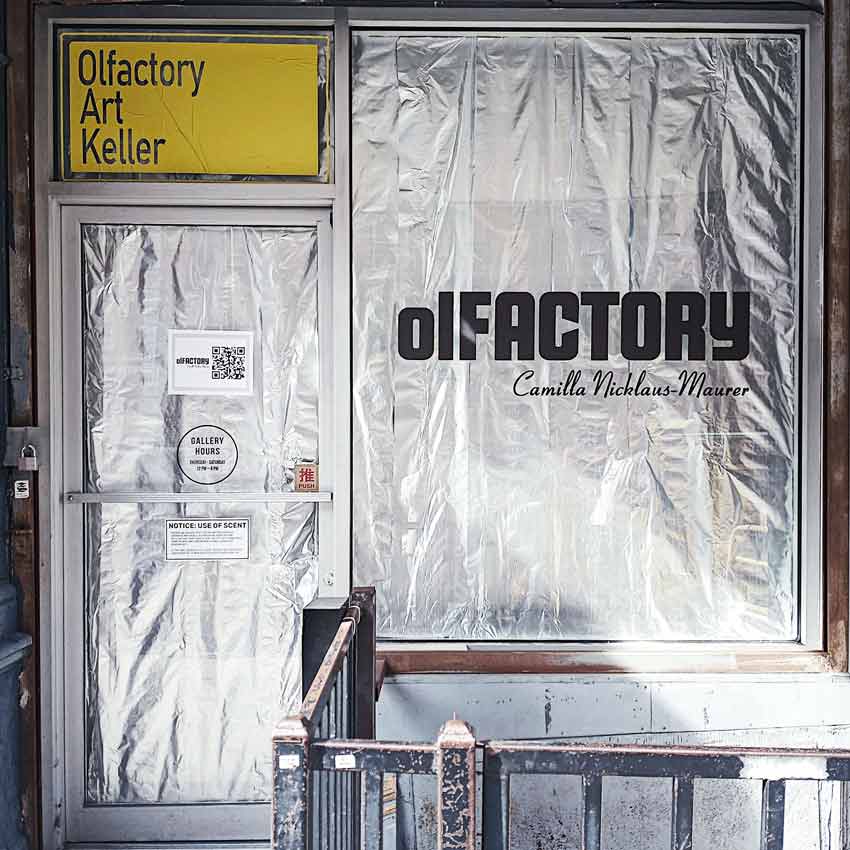 Olfactory Art Keller housed its inaugural exhibition, / Forest Bath, by artist and designer M Dougherty in February. It is now the turn of German artist Camilla Nicklaus-Maurer, who has long used smells as one of the main mediums in her practice, to take over the small space with her immersive project: olFACTORY. In the pun of the title hides a tribute to Andy Warhol and The Factory, his famous studio which opened in New York in 1964. Warhol was, as detailed in the sixth issue of Nez magazine, a fervent collector of perfumes, as much for their bottles as for the fragrances themselves, their propensity to radiate in space, and to abolish time. He also worked on several perfume-related projects, including the provocative You're In, contained in Coke bottles sprayed with silver paint, for the Museum of Merchandise exhibition held in Philadelphia in 1967.
For this solo exhibition, Camilla Nicklaus-Maurer takes advantage of the restrained yet fitting space offered by Olfactory Art Keller: the interior of the new gallery, plunged into semi-darkness, is entirely covered with aluminum tin foil and occupied by the strange yet familiar smell of bananas! In the form of a visual and olfactory nod, Camilla Nicklaus-Maurer thus pays a multi-dimensional tribute to the Pope of Pop Art: his passion for scents, his obsession for the color silver – which, at some point, covered the walls of The Factory – as well as his iconic banana which served as the cover for the album The Velvet Underground and Nico.
Similar to this famous yellow banana that was originally a sticker under which one could discover another one, peeled, and of a suggestive pale pink, Camilla Nicklaus-Maurer's olfactory banana is also dual. It indeed evolves in the space as visitors move towards the back of the gallery. The artist has used two compositions, respectively entitled Young Banana and Old Banana, which allows her to spatialize a temporal experience, that of the ripening of this invisible fruit. And like Warhol's pop silkscreens that simplified the lines and subverted the colors, these olfactory interpretations of the banana are identifiable without being naturalistic: the cold and metallic undertones that hide behind the fruity, sweet and creamy aspects of the banana are echoing the visual environment created by the artist.
Finally, the season itself is well suited to this tribute installation to Warhol whose favorite scent was "the first scent of spring in New York" (Andy Warhol, "Giant" Size, Phaidon, 2009)!
–
olFACTORY – Camilla Nicklaus-Maurer
March 25 – April 17, 2021
Olfactory Art Keller
25 Henry Street
New York NY 10002
Thursday to Saturday, 12pm – 6pm

The online shop of the gallery is also selling a signed limited edition of 13 olFACTORY recreation kits ($440).