Cette publication est également disponible en :

Français
Editorial partnership
The American Society of Perfumers and Quintis Sandalwood, a company that specializes in the sustainable production of Australian and Indian sandalwood varieties, sponsored a competition at the end of 2021. The two winners were announced at the World Perfumery Congress (WPC) in Miami at the beginning of July. Interview.
The selection of winners for the Sandalwood Reimagined competition was difficult; a jury of expert perfumers reviewed around 300 submissions from all over the world. The only requirement for participants was to use at least 1% of the Indian sandalwood essential oil cultivated by Quintis in their compositions and to have a creative goal. Following an examination of the profiles and sources of inspiration of the finalists in the categories of "Global Winner" (senior perfumers or talents) and "Emerging Talent" (junior and student perfumers), we interviewed the two winners, who were announced at the closing cocktail of the World Perfumery Congress (WPC) in Miami at the beginning of July.
Jennifer Jambon, Argeville, France: Global Winner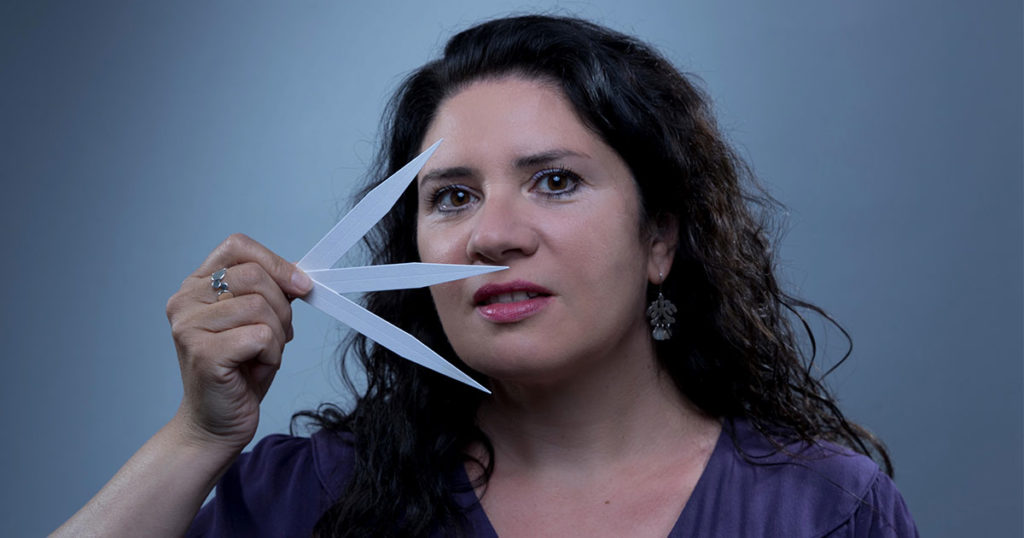 Since you had won the competition organized by Quintis six years ago, did participating in this new edition seem obvious to you?
I used the memory of the last competition prize I won – a tour of Quintis's environmentally friendly sandalwood plantation estate in Australia – as inspiration for this year's creation. In the midst of this enormous forest, at that magnificent time when the wood was being cut, I also recall the feeling of freedom I experienced. A truly enjoyable aspect of having such a broad subject is that anyone may personalize it in their own unique way.
In general, competitions are fantastic opportunities for perfumers, but it is especially fortunate when they are open to everyone, as with Sandalwood Reimagined. This gives young professionals a chance to establish themselves and boost their confidence, and it can also occasionally confirm a career choice because the creative side of perfumery is not typically focused on early in a career. I also placed first in a competition held by the French Society of Perfumers, or SFPC as it is now known. This accomplishment undoubtedly aided me in my professional development.
What is it that you enjoy most about Quintis's sandalwood oil?
It is of good quality, very rich, and has a variety of facets that are creamy, milky, but also drier and woodier, reminding me of sawdust. Additionally, it has a powdered side that is spicy and vanilla-flavored, evoking bay St. Thomas and saffron. Additionally, I can detect a tiny coffee note that I attempted to make stand out in this creation.
How did the formula change as it was being created?
The memories of my journey served as the foundation for my idea. I wanted to be able to picture a bright sandalwood depicting nature in complete transparency, along with the story of how Quintis has improved irrigation through innovation. In an effort to elevate the sandalwood and give it a sense of lightness, I started working on a composition that was more floral in nature. I began with a mimosa component and added complexity by gradually reducing it. I also had a more marine proposal, but it didn't seem sufficiently rich and original enough. To find the correct tone, I spent a lot of time harmonizing the ensemble.
What would you like to bring to tomorrow's perfumery?
On the creative side, I enjoy working with simple, minimalist formulas that allow me to present stunning materials that are readily available and encourage the appreciation of every component whose efforts were put to use. This is in line with the sustainability element of perfumery: Some ingredients will inevitably grow rarer and more expensive; this is a difficulty we must face, but I believe perfumers will profit from it by being more inventive and changing their signatures.
Which perfumers or creations have been the most inspiring for you?
The one that has most impressed me is Terre d'Hermès; Francis Kurkdjian's work for his own brand or other houses fascinates me as well. I also adore Tom Ford's creative direction, which has produced works like Soleil Blanc, Santal Blush, Néroli Portofino, and most recently Ébène Fumé. And more generally, I adore orris scents like Bois d'argent by Annick Menardo for Dior and Iris Prima by Alberto Morillas for Penhaligon's.
What do we hope for you now that this contest has been a success?
I already feel quite happy to present my scent, to tell its tale, and to share my journey to Australia. A future opportunity to collaborate on similar creative projects showcasing lovely fragrance materials will make me extremely delighted, I'm sure. It's difficult because so many different things have been created using the palette's components, but I prefer to think of new ways to interpret what is ostensibly well known while fusing notes that appear to be in opposition.
Fanny Ginolin, Takasago, France: Emerging Talent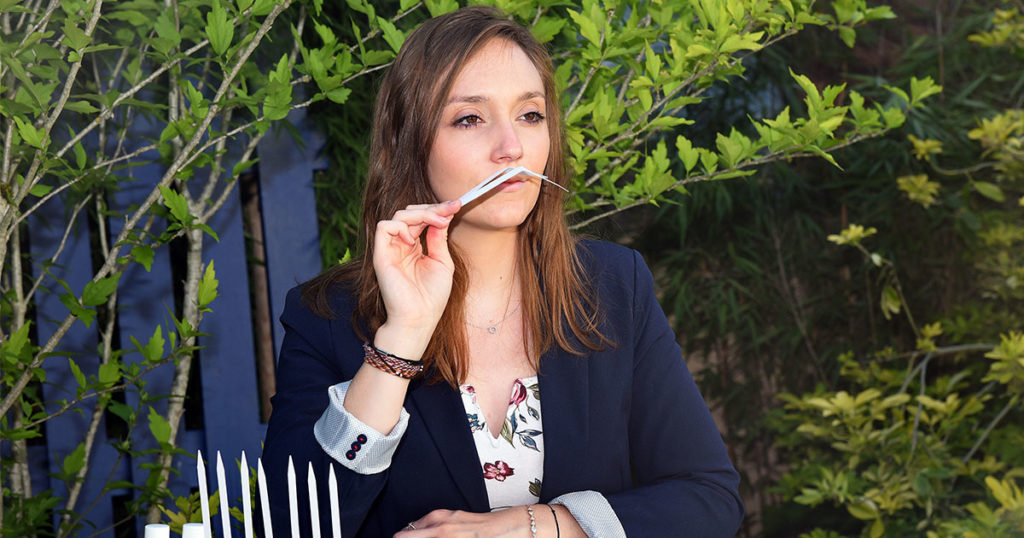 Why did you choose to participate in Quintis's competition?
I already participated in the Corpo 35 competition, so I won the prize in 2019; this is a challenge I really enjoy since it provides me with new goals and enables me to get the opinion of an expert jury on a creative work. So, when I read about Sandalwood Reimagined in the Nez article, I jumped at the chance. I just wanted to create a note around this wood. Having the opportunity to work with an exceptional material like Quintis's sandalwood was very interesting and opened me up to the search for qualities of raw materials seldom spotlighted. For the competition, I had to organize myself so that I could formulate outside my work hours. It was a highly expansive and engaging theme, as evidenced by the fact that each finalist made extremely distinctive suggestions, which were articulated during the award ceremony.
Regarding other qualities that were already known to you, which ones did you really appreciate in Quintis's essence?
I had indeed worked with other sandalwood essential oils, but this was the first time I smelled this one. Beyond the remarkable eco-responsible approach, one immediately perceives the quality of the material, powerful and complex. In addition to the creamy and milky, soft and comfortable facets, there was a spicy note that I kept coming back to, and that I wanted to bring to the fore.
What were the difficulties you met with during the creative process?
My idea was to retrace sandalwood's journey from its land of origin, India, to its country of cultivation, Australia. Sandalwood is a base note, and if you want to perceive it throughout, it is technically complicated. You have to be careful not to mask it with another raw material that would take over. But I wanted it to be felt from beginning to end, to give the wearer the impression that they are traveling with it. In particular, I had to rework the marine note in the middle so that it was not too persistent and the very powerful Indian spices, such as cumin, which tend to take up all the space.
Which perfumers or creations have been the most inspiring for you?
The creation that opened me up to the world of perfumery is 24, Faubourg by Hermès, which my mother wore, and which still awakens many memories and emotions. But I also love the work of Jean-Claude Ellena, who is a role model for me: I find it fascinating the way he brings out particular facets of certain raw materials, with unexpected associations. Quentin Bisch is also an example for his originality and the accuracy of the fragrances he creates.
Which vision of perfumery would you like to put forth?
In particular, I would like to work on new combinations, mixing ingredients from the perfumer's palette that one would not have thought to see together, to create dualities – between sweetness and strength, for example – that stand out while remaining olfactorily accessible.
I also think that we need to highlight these beautiful raw materials, enhance the value of sourcing as Quintis does, and optimize the biodegradability of formulas. I am not necessarily in favor of 100% natural; I am convinced that the industry is moving toward a green production of synthetics, more responsible for the environment and consumers. In one of my internships, I studied agro-resources that allow us to use parts of plants that are not typically employed so that there is no loss or waste. This is an important approach ecologically, but it's also interesting on an olfactory level: It allows us to enrich the perfumer's palette, to distinguish the differences between two parts of the same material.
What do we hope for you now that this contest has been a success?
I hope to have opportunities to evolve in creation, as I wish to become a perfumer. My success in the competition confirms my pursuit of this path and gives me the hope of finding a position as a student perfumer or junior perfumer within a company.