Cette publication est également disponible en :

Français
Walnuts, hazelnuts, puffed rice and toasted granola are some of the all-new gourmand notes making their way into our bottles. The fact that the endless line of sugary blockbusters has reached saturation point certainly explains this growing trend. To talk to us about what's what, we caught up with Mane perfumer Mathilde Bijaoui and independent perfumer Anatole Lebreton.
Thierry Mugler's Angel introduced sugar into perfumery: when it was released in 1992 it was seen as an outlier before establishing itself as a pioneering fragrance that opened the door to thirty years of creations. As its creator Olivier Cresp told us in a recent interview for Nez #15 – As time goes by, the industry is far from having exhausted the topic. He cites "all the cereals, oats, wheat, rice… sesame" as some of the paths worth exploring. This new approach to gourmand notes is gradually carving out a place for itself in compositions: we are seeing various oil-producing plants and ears of cereals emerging here and there in formulas, exploring a territory far beyond the simple addition of ethyl maltol and its sales-boosting role in recent years.
A quick botany lesson
Cereals are grasses in the Poaceae family. Wheat (initially einkorn wheat), millet, maize and rice are some of the first plants cultivated by homo sapiens and played a decisive role in the development of human societies.
While humans have eaten these plants for many thousands of years, deliberate nut-growing no doubt happened later, probably due to their lower yields. Nuts are not a scientifically defined category but a set of oil-producing seeds contained in a shell from different botanical families. They are also characterised by low water content, usually less than 50% of their total weight.
Walnuts, pecans, hazelnuts and chestnuts belong to the Fagales order. The walnut, which boasts the largest worldwide production, is the fruit of Juglans regia in the Juglandaceae family. We have little information about its origins, but we do know it has been around for a very long time: a fruit dating back eight million years was found during an archaeological dig in Ardèche, in southeastern France. As for the cashew, it comes from Anacardium occidentale in the tropical Americas. It was not identified until the 16th century, although it may have been used at an earlier date. Castanea sativa Mill., from the Fagaceae family, is thought to have been cultivated for chestnuts starting in the 5th century BCE, often replacing cereals over the course of history (it was even known as "bread of the woods"). Fruit of Prunus dulcis from the to the Rosaceae family, the almond is likely to have been eaten as early as the Mesolithic and is prized by communities living round the Mediterranean region. The pistachio is from the Pistacia vera L., in the Anacardiaceae family from central Asia. And the hazelnut is the fruit of the Corylus avellana, in the Betulaceae family. It is also worth mentioning the coconut – fruit of the Cocos nucifera which belongs to the Arecaceae family – for its name as well as its olfactory similarities, even though it is not traditionally included in the nut category.
A variety of olfactory profiles
Nuts and cereals have olfactory profiles as varied as they are appreciated. Initialy, a large number of volatile compounds (around 200) were identified – compounds that can evolve depending on growing conditions, such as water stress, diseases and maturity.[1]See Valdés García A, Sánchez Romero R, Juan Polo A, Prats Moya S, Maestre Pérez SE, Beltrán Sanahuja A., Volatile Profile of Nuts, Key Odorants and Analytical Methods for Quantification. Foods, … Continue reading Post-harvest treatment also effects the olfactory nature of these raw materials. With the Maillard reaction and oxidisation of fatty acids that happens during cooking, lipids are damaged and olfactory molecules appear, such as furanone, methylbutanal and benzene acetaldehyde with its honeyed aroma. A number of pyrazines – a family of molecules with the same roasted signature – also develop with aldehydes, alcohols and ketones. Then the odours change over time: the concentration of linoleic acid gradually increases while hexanal and nonanal also appear, and are partly responsible for a "rancid" smell.
Perfumers draw on a variety of traditional ingredients to play with all these sensations. Vetiver from Haiti, for instance, can have hints of hazelnut. Another example is "tonka bean and its coumarin, present in almonds – also suggested by benzaldehyde, acetophenone and heliotropin. Immortelle and fenugreek have cereal-like facets too, with a bit of spice. Sandalwood, with its milky and woody aspects, can conjure up the idea of pastry, tobacco can add a gourmand dimension on top of its hay notes, while furaneol and the pyrazines provide the roasted facet. I'm particularly fond of wheat bran for the absolute – it has a rich olfactory profile ranging from straw to praline, with more jam-like, honeyed qualities," explains Anatole Lebreton.
To embody hazelnut, "we often use pyrazines, which immediately evoke a roasted feel," notes Mathilde Bijaoui. "But if we want to play on the greener, fruity dimension, we have a neo-Jungle hazelnut essence at Mane which helps introduce that sense of naturalness. On the other hand, certain molecules – like diacetyl and acetyl propionyl – which were used in the past to build up a buttery facet, are now strictly regulated. You have to be clever about it: to introduce more softness, you could use the neo-Jungle prune essence, for example."
To recreate the smell of pistachio, Jean-Claude Ellena suggests three ingredients in the summary of odours in the Journal d'un parfumeur: "benzoic aldehyde, phenylacetaldehyde, vanillin." The walnut is aromatic and earthy, while the almond has more of green, milky character. The chestnut, with its subtle sugary taste, also has "a spicy side to it, isoeugenol [a molecule contained in the smell of cloves]" whereas "rye is smokier," adds Mathilde Bijaoui. The perfumer's favourite cereals include, in particular, "oat, for its very fluffy, powdery smell, with a maternal, creamy and comforting, nourishing feel. To add a floury touch, we combine several raw materials, including woody ingredients such as cedar and sandalwood. And we recently created a captive, Vayanol, which is spicy with hints of liqueur, vanilla and tobacco, and can offer an interesting solution for cereal facets." The captive is now part of the Mane perfumers' palette, along with Cocotone, another product of biotechnologies, appreciated for its toasted coconut aspect. It is also worth mentioning the Garden Lab asparagus from Symrise, with its cereal and hazelnut facets. The emergence of these new materials supplements traditional ingredients as well as responding to the current interest in gourmand notes.
Scented tradition
Aside from these distinctions, it is noticeable that while some of the notes are populating our bottles, others are far more discreet. Our noses are very familiar with coumarin, present in tobacco notes and certain florals. While it tends to be found more frequently in functional fragrances, coconut has made a home for itself in summery white florals and exotic fruity accords. But walnuts, hazelnuts, pistachios and cereals do not have a long creative tradition behind them in the gustatory sense.
Méchant loup, composed by Bertrand Duchaufour for L'Artisan parfumeur in 1997, may well be the fragrance that got the ball rolling. As the brand describes it, the perfume paints "an abstract portrait of the hazelnut tree in an accord that reveals the smells of the forest and softens into a gourmet note." Then there is Bois farine, an unquestionably more famous fragrance released in 2003. Jean-Claude Ellena's creation offers an interpretation of the Ruizia Cordata flowers to be found in Réunion, with their floury aroma recreated by a bouquet of cedar, guaiacwood and sandalwood in a powdery whisper. A year later the perfumer came up with Vétiver tonka for Hermès, where the hazelnut facet of the plant's root is softened by tonka bean, evoking a chocolatey muesli. Olivier Cresp was the next to venture into this territory with KenzoKi Rice Steam; released in 2004 and reissued in 2010 under the name MMM de riz sensuel before being discontinued again, it suggested grains of steamed basmati rice in a musky aldehyde and pyrazine cloud. That same year saw the release of Marron chic from Nez à Nez, where Karine Chevallier fuses a creamy iris with cocoa and balsam facets, creating the illusion of a marron glacé. Chestnut also features in Fat Electrician from État libre d'Orange: an oily vetiver composed in 2009 by Antoine Maisondieu.
The signature fragrance of Brittany-based brand Lostmarc'h', Lann-Ael, pays homage to the traditional Breton cake kouign-amann, even though sugar does not take a central role and green notes rub shoulders with milk and cereals. Delving into the pasty cook's oven, Christopher Sheldrake offers an evocation of French toast enveloped in dried fruits, milky, malted, slightly smoky and candied, which goes by the name Jeux de peau from Lutens. In 2012, État libre d'Orange, clearly a pioneer when it comes to the new gourmands, launched Fils de dieu, du riz et des agrumes (Ralf Schwieger), followed in 2013 by La Fin du monde, a gunpowder accord composed by Quentin Bisch, full of crackling popcorn.
Jo Malone took things one step further with a collection of five perfumes launched in 2018 that explore "English fields," as interpreted by Mathilde Bijaoui: "it really was innovative at the time. The idea was to dedicate each perfume to a specific cereal, in a very literal style. It was a particularly enjoyable exercise for me, as I love transposing things we eat – without necessarily focusing on sugary elements, but evoking something mouth-watering, nourishing – the incarnation of the concept of the 'seed of life.' These notes harmonise really well with the skin. To differentiate the cereals, we went to smell them at a baker's. So Oat & Cornflower explores muesli with a dried fruit, hazelnut dimension, slightly roasted, shaped by lavender and woody notes. For Primrose & Rye, on the other hand, I worked with rye, which is darker, almost smoky." The range was released as a limited edition and also includes Green Wheat & Meadowsweet, a honeyed almond with Honey & Crocus, and the floral and powdery Poppy & Barley.
Fresh out the oven
The explosion of cereal and toasted notes is very recent. Pistachio for example has been popping up in several compositions launched in recent months. Its green character echoes the pesto accord in Rital Date from Versatile while adding a gourmand, comforting creamy roundness, described as "very appetising, invigorating, warm, addictive" by the brand, which handed over the reins to perfume creation studio Flair.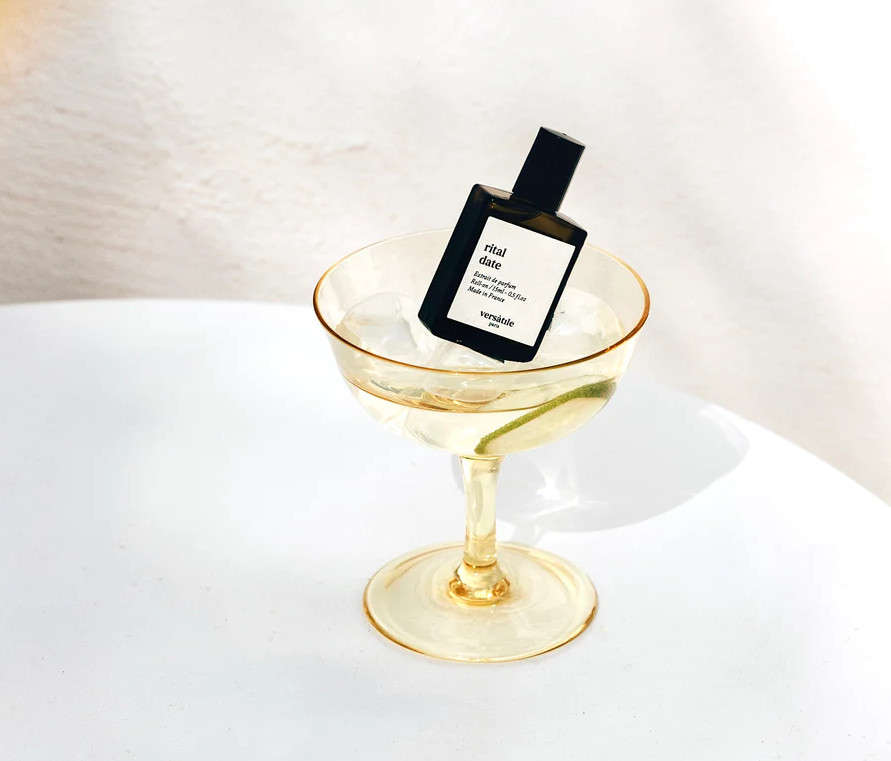 And pistachio is the star of the composition for Yum Pistachio Gelato 33 from Kayali, the brand founded by sisters Huda and Mona Kattan who also created the Huda Beauty brand. A tasty little treat, unpretentious, but living up to the promise of its name by creating an ice-cream with green flashes, almondy and creamy.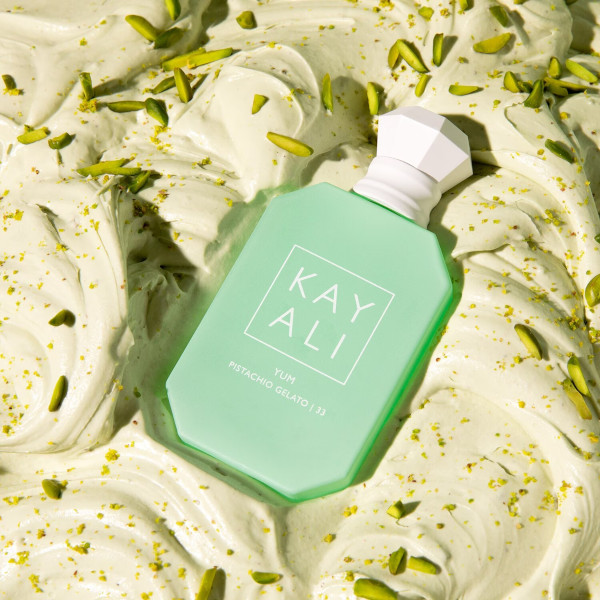 DS & Durga is where a true ode to the pistachio can be found: Pistachio is "a perfume with no history, which simply evokes the fun side of the nut – particularly its flavour in deserts." The result, however, has a somewhat synthetic feel among the vanilla-like notes.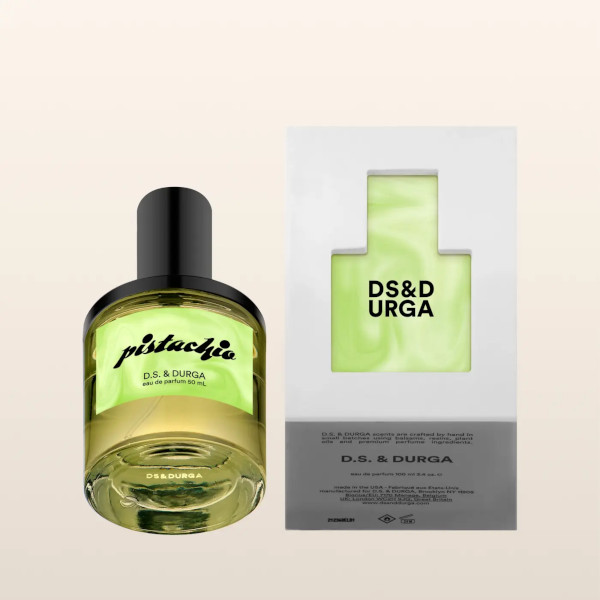 The green nugget also lends its name to the latest offering from Obvious, which crowns it queen of Tripoli's streets. It opens with a green, almondy surge, driven by musks and the milky facets of sandalwood, avoiding any sense of heaviness. Une Pistache offers an excellent interpretation of its subject in a far more naturalistic tone than its eponymous New York cousin.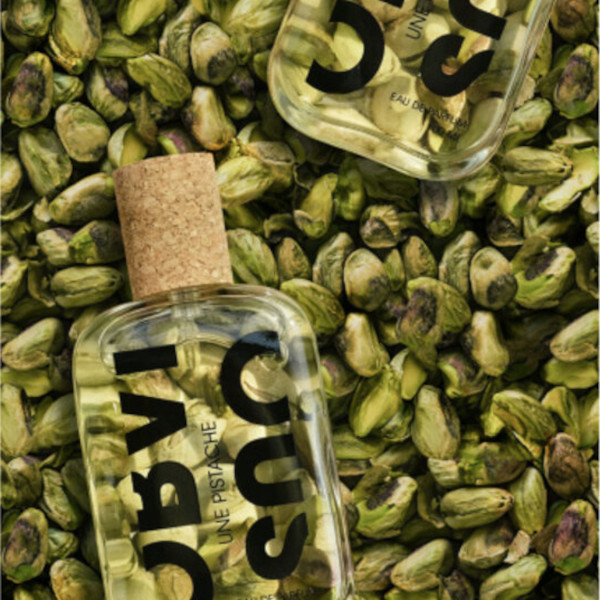 A roasted version crops up in Faces of Francis from Vilhelm, inspired by Francis Bacon's triptychs. Bertrand Duchaufour imagines the artist in his studio recalling "the smells of Tangier where pistachio mingles with saffron." It teams up with aldehydes, woods, pyrogenic styrax, vetiver and ambergris.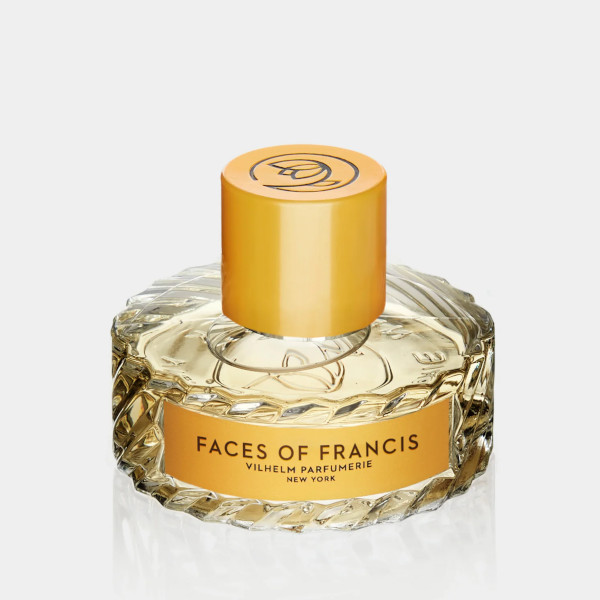 Christine Nagel's latest creation for the Jardins d'Hermès collection looks not to Morrocco for inspiration but to Greece – more specifically to the island of Cythera. The new member of the family stands out from the other compositions in the range, neither floral nor really citrusy: instead it is as blond as wheat. Pistachio is a gourmand presence amidst the grasses swaying in a landscape of generous roundness.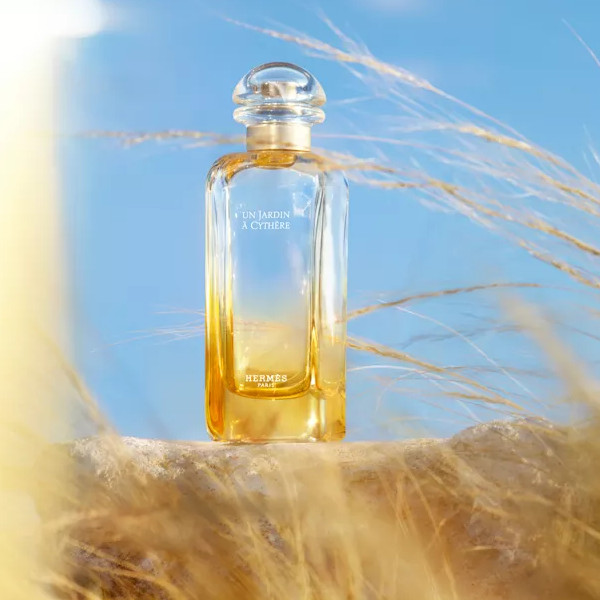 Golden wheat ears envelop the latest creation by Anatole Lebreton, Brioche. The independent perfumer describes how the idea came to him when he discovered wheat bran absolute. "That's often how I work, by falling in love with a raw material. This one has straw facets, praline-like, candied, honeyed, which remind me of Weetabix. It made me want to work on a brioche, even though sugary notes are not part of my culinary or olfactory universe. I drew out the dried fruit dimension with furaneol – which is very strong – to add a little bit of a roasted and strawberry jam feel. Coumarin also conjures up praline-scented toast. Sandalwood, which is slightly milky, brings to mind rising dough. As if you'd opened the oven during cooking, with a piece of raw dough still on the table in a dusty house strewn with dry straw." A panoramic perfume which meets the challenge of faithfully recreating the sweetness of pastries while avoiding their stickiness, all with a hint of fresh country air.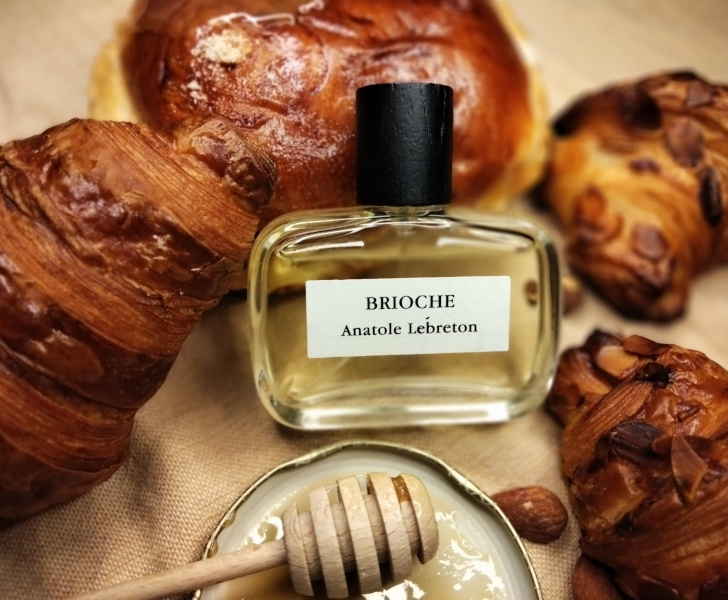 Pastries of every sort are traditionally to be found in candles and home fragrances. But creations are often heavy, fairly coarse and ultimately unmemorable. The Cardamome briochée candle designed for the autumn by the small brand Récoltes stands out for its elegance. The Guatemalan spice brings with it an aromatic freshness that shapes the rounder notes of a caramelised, almost toasted vanilla.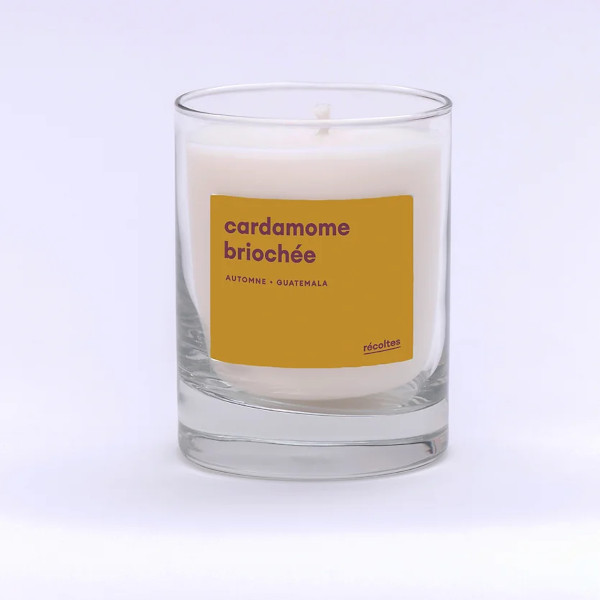 But let's get back to our eaux de parfum, where Mathilde Bijaoui has also explored an emblematic bakery speciality. For Crumb Couture, from New York brand Snif, "the approach was fairly literal: a croissant spread with a layer of red fruit jam. Various ingredients suggested themselves, and I chose sandalwood, vanilla and tonka bean. And then there's the fact that when you work at a composition house, you get to talk to the flavourists, excellent sources for briefs of this sort!"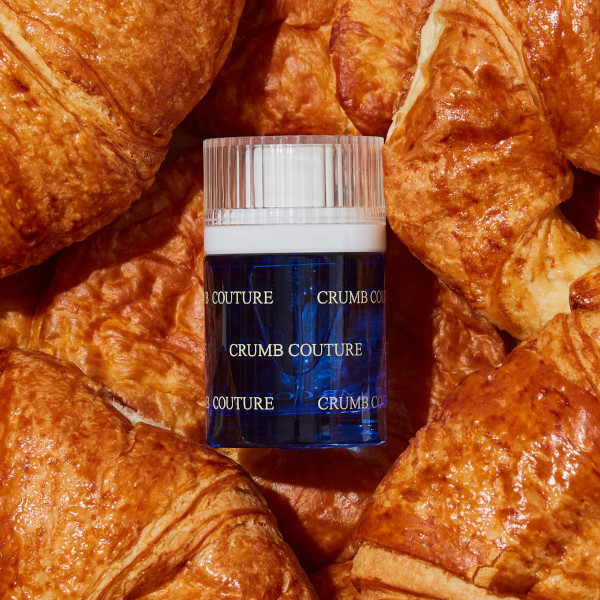 Grasses have come along for the ride too. They take us to Turkey and the town of Harran, which lends its name to one of the compositions from recently launched niche brand Soul of Makeen. Patrice Revillard invites us to "break bread together at dawn in welcoming households" by working on the ambery notes with a nostalgic approach and enveloping them in "an accord made of cereals, candied fruit and honey."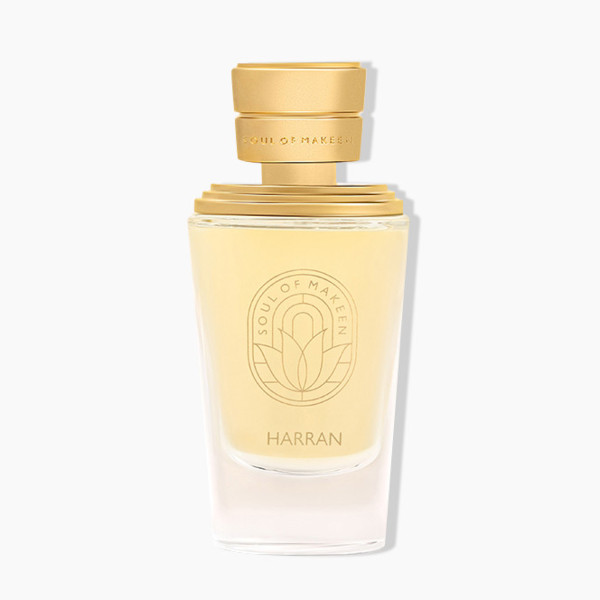 At Profumo di Firenze, flowers conjure bread fresh from the oven. Violet, tulip, iris and vanilla combine in Fior di Pane to take us "back in time, waking childhood memories." Like an echo of a poem by Francis Ponge, which we feel deserves quoting for the sheer pleasure: "That cold soggy substratum, the doughy innards, consists of a sponge-like tissue; there flowers, leaves are fused together at every bend like Siamese twins."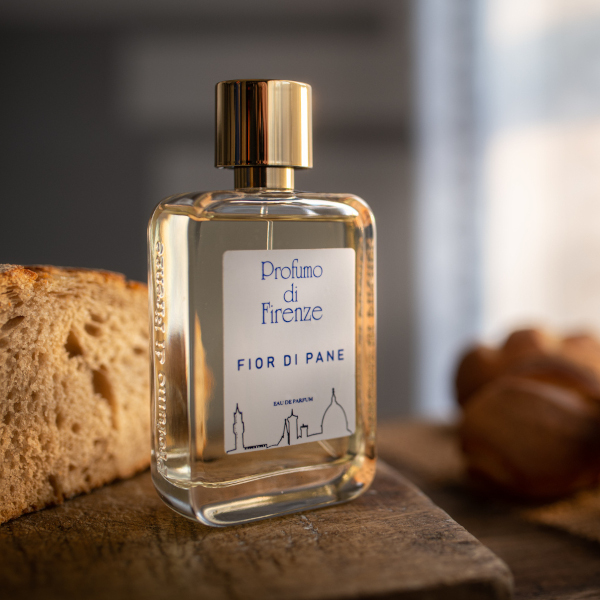 Let us take a stroll through the meadows with Zoologist, which invites us to embrace our inner mouse with Harvest mouse and run through wheat fields infused with camomile, hay, beer CO2 extract and balsams. The result is vanilla, caramelized, regressive. Tiger is more characterful, with notes of chestnut behind its woods and leather.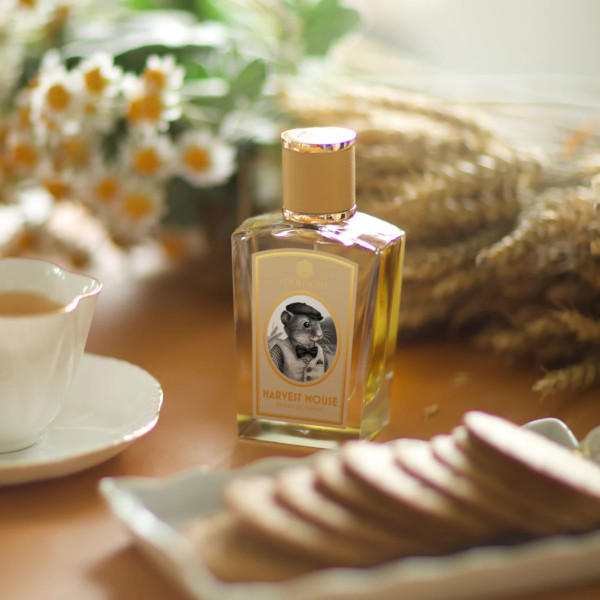 Meabh McCurtin composed Bread in Chestnut for Scents of Wood (L'Âme du bois) with her nose buried in yet more cereals. The wheat bran absolute chosen for its toasted notes is softened by the creaminess of sandalwood and deliciousness of tonka bean for "a decadent and comforting effect based on balsam-like bread." Rosemary and oliban counterbalance this sweet treat, which summons the smell of a candied chestnut in its alcohol-infused glazing.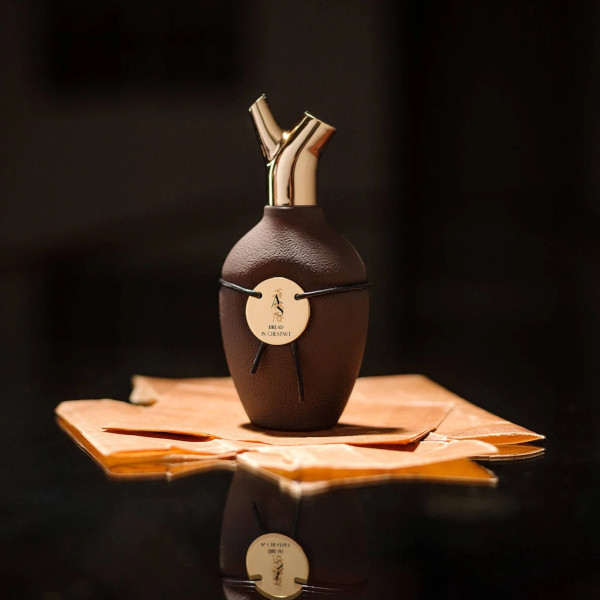 The precious fruit embraces haute couture at Dries van Noten: Marie Salamagne, "fell in love with the silk dresses on Quai Malaquais" and was inspired by the fabric for one of the compositions in the collection released by the brand in 2022. The result? A sensual, vanilla-infused chestnut scattered with green notes and given the name Soie Malaquais.
Cereals are not just for adults: the new Tartine et Chocolat fragrance is sprinkled with their sweetness. Céline Perdriel chose orange blossom, white cocoa and oat milk to embody a new version of the famous Ptisenbon of our childhood: Ptimusc, a fragrance we won't want to leave to our children.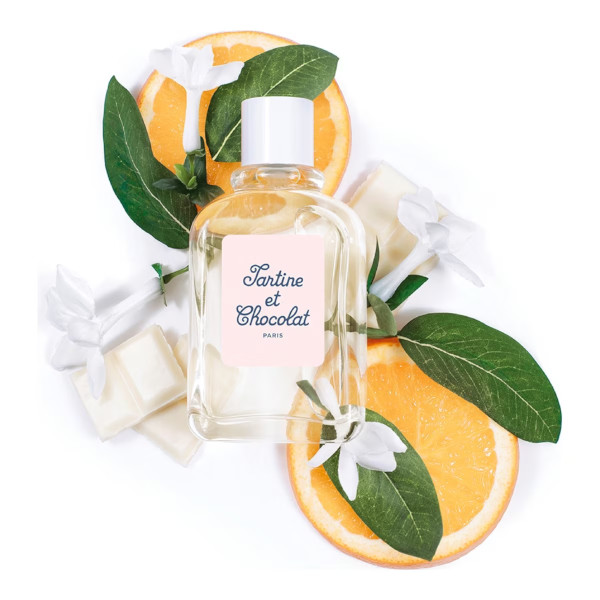 Musks are also centre stage in L'Eau papier from Diptyque, where Fabrice Pellegrin depicts "a suspended moment when hand, ink and canvas move as one." The foundation is the white medium where inspiration, sketches and ideas are deposited – and where mimosa wreathed in a "rice steam" accord is soon followed by woody ambers (or an "accord of blond woods" in the brand's words).
Woody ambers play a big part in Frustration from État libre d'Orange, created by Mathilde Bijaoui. A vanilla that is alternately tangy, spiced with cinnamon, and creamy, evoking a nostalgic chestnut purée – possibly a nod to the gourmand vetiver that is Fat Electrician. "An extraordinary State of Orange that you have to reach in order to live passionately between the child and the adult with the memory of what's missing."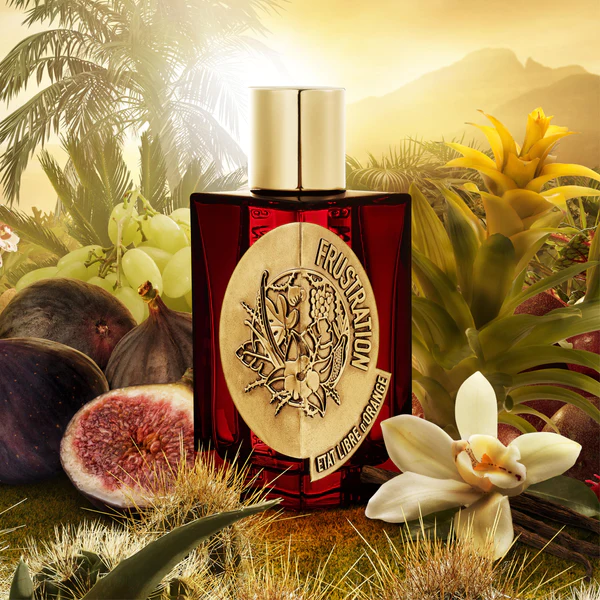 But hazelnut has recently proved to be vetiver's favoured partner. In 2020, mirroring one of the house's historic fragrances – N'Aimez que moi – Caron launched Aimez-moi comme je suis, a Haitian vetiver mixed with nuts and tonka beans with "woody amber accents." We have been warned.
Vetiver and hazelnut feature again more in the new fragrance from Essential parfums, Patchouli Mania by Fabrice Pellegrin. But as its name indicates, the star of the show is the Indian leaf, teaming up with an absolute of cacoa, davana and woody notes. The perfumer says he wanted to "create a sensual, ungendered patchouli, addictive as well as entrancing."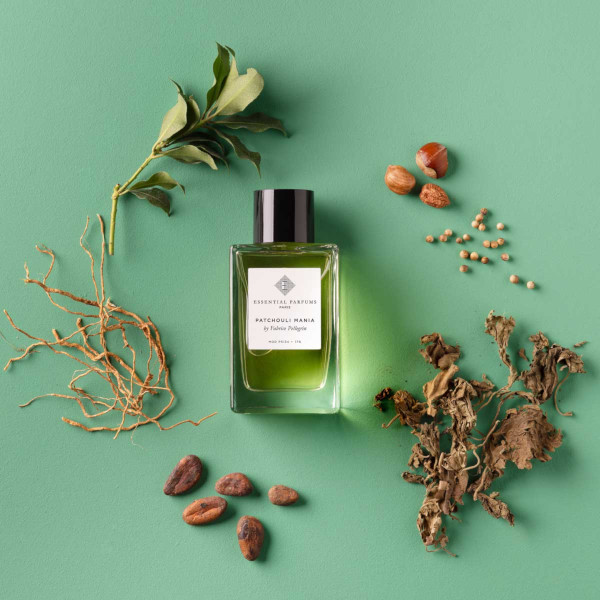 At L'Occitane, the exploration of forgotten flowers has given rise to Mélilot, the result of collaboration between researchers, producers and perfumers. In addition to the resurrected flower, other notes include galbanum leaf, hazelnut pear, hay, wheat, vetiver and cedarwood. A simple, comforting gourmet pleasure, with honeyed facets and a clear recognition of nuts, without heaviness.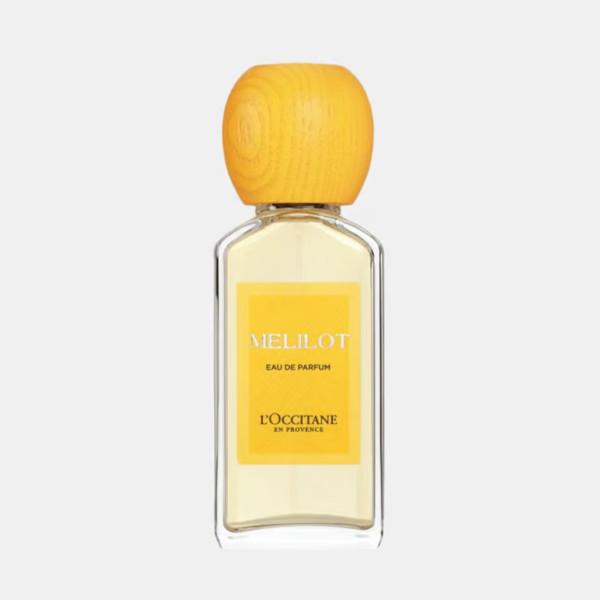 Perfumer Jean-Christophe Hérault also chose the hazelnut accord to soften the vetiver and iris in Vétiver gris, the Jacques Fath perfume house's second homage to its mythical Iris gris after an eau de parfum released at the beginning of the year. Its short and legible formula gives it an elegant, modern feel.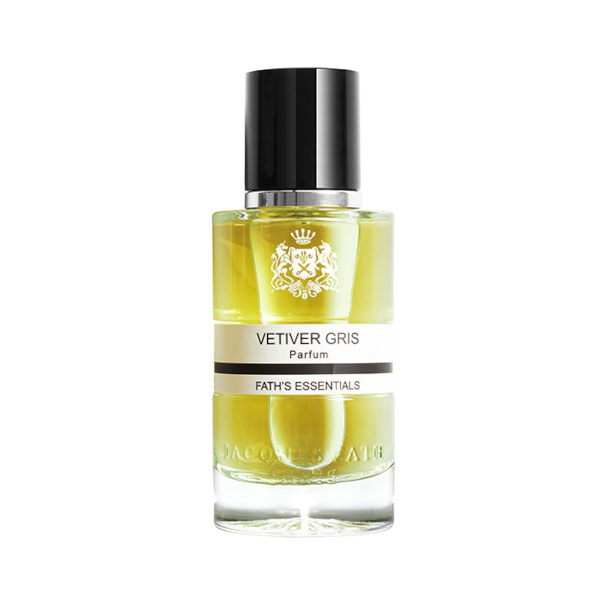 The hazelnut and iris duo has lent its name to one of Luca Maffei's creations for Jul et Mad as part of Les Essentiels collections. "An oriental-floral-gourmand accord," with rose-scented, spicy and vanilla-infused notes termed an "olfactory delight" by the brand.
Marie Jeanne chose the same nut to magnify her Iris Pallida. Alexis Dadier pays tribute to the noble root, known as the gold of perfumery, by paring back its powdery facets and ramping up the more buttery dimension which evokes the raw material – as well as the deliciousness of a hazelnut cream.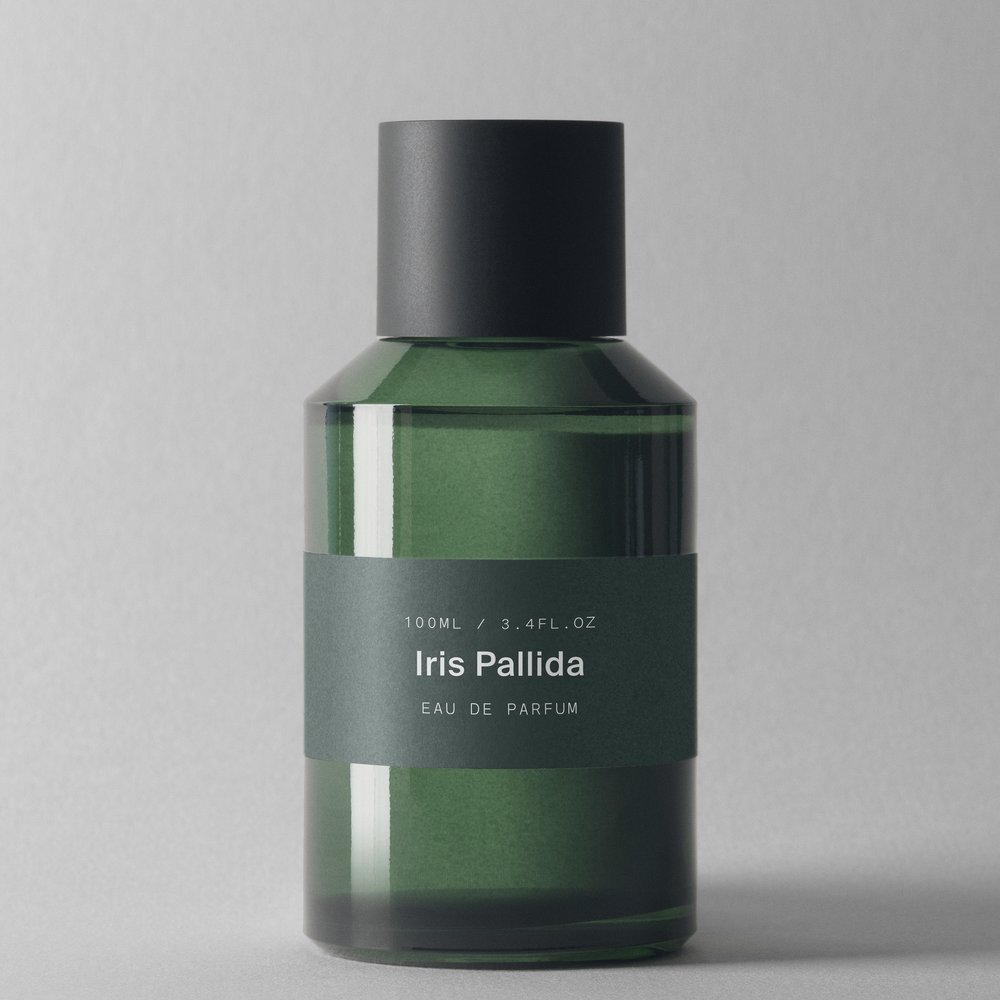 Hazelnut takes on a popcorn feel in the genmaicha Patrice Revillard has bottled for Je ne sais quoi. One of the first creations in the Expressions parfumées collection from Teo Cabanel, he infuses a Japanese sencha with "roasted grains of rice with sesame-hazelnut notes." A lovely appetising fragrance with the added benefit of being accessible in both olfactory and financial terms.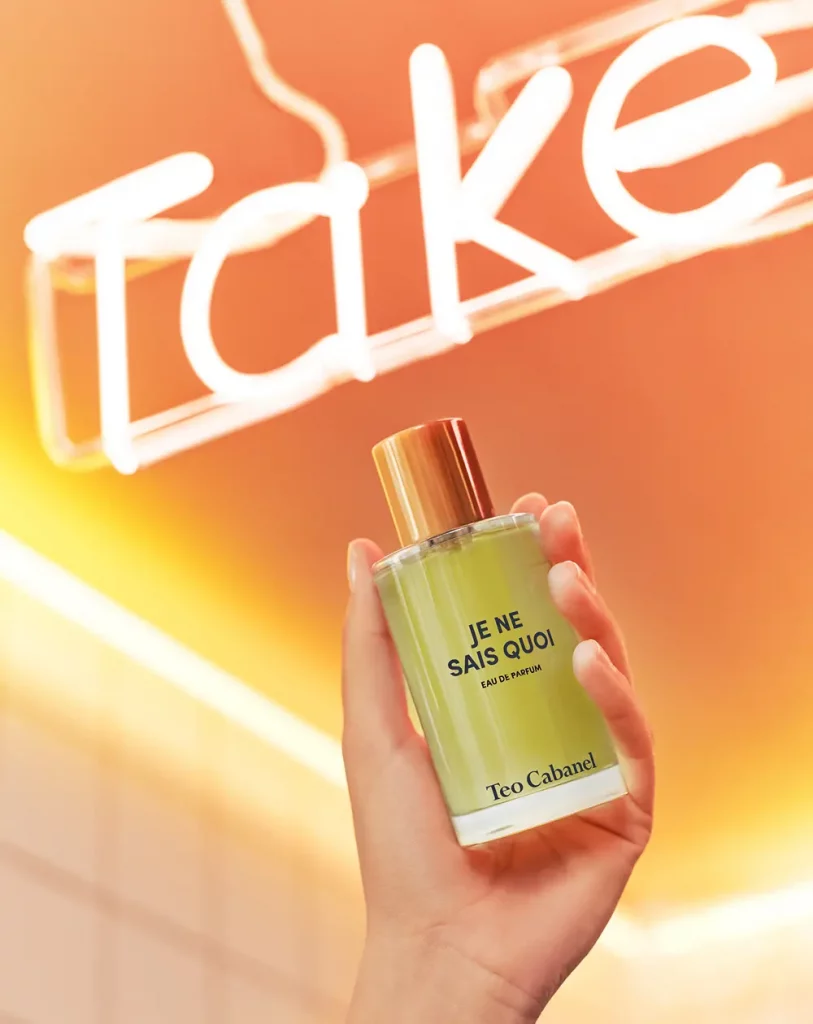 Rice has an airier quality in Dirty Rice, one of the offerings from a new brand with a rebel attitude, Born To Stand Out. The basmati garnished with almonds and light woods bears the unmistakable stamp of Olivier Cresp. For anyone already wild about Kenzoki, here they will encounter a musky lover, endowed with a hint of discreet animality.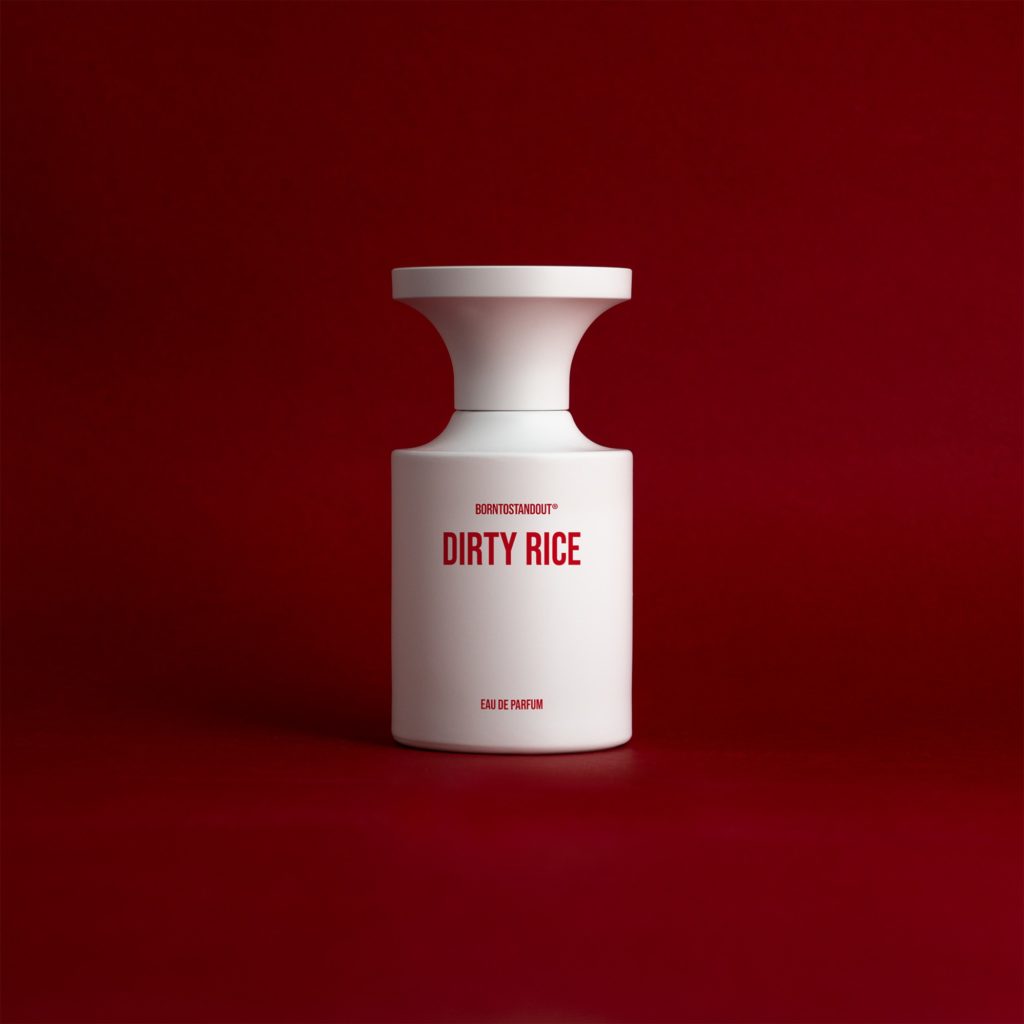 We encounter almond milk once more in Guidance, a dream-like creation by Quentin Bisch who invites us to enter an ivory tower inhabited by a princess. Osmanthus, jasmine and sandalwood complete this "fresh and spellbinding interpretation of Amouage's distinctive rose-incense-ambergris trio."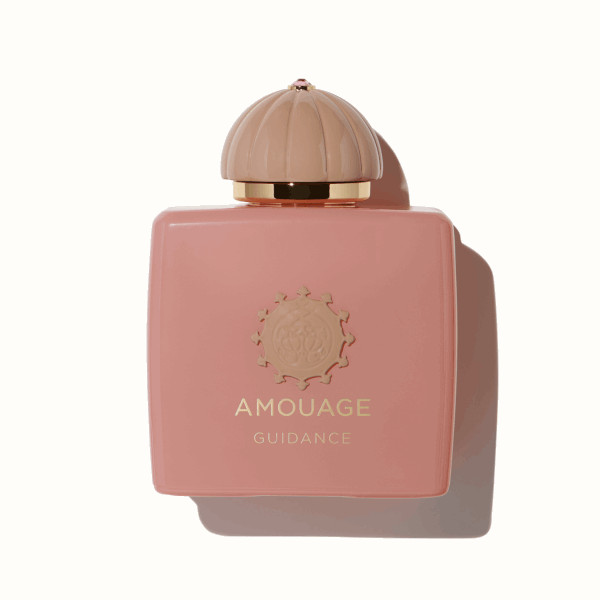 Frapin finds its inspiration not in a fairytale but Alexandre Dumas's iconic novel, The Count of Monte Cristo. Attendre et espérer uses the moral of the story to pay homage to the novel's hero with an addictive "highly original walnut and vetiver accord."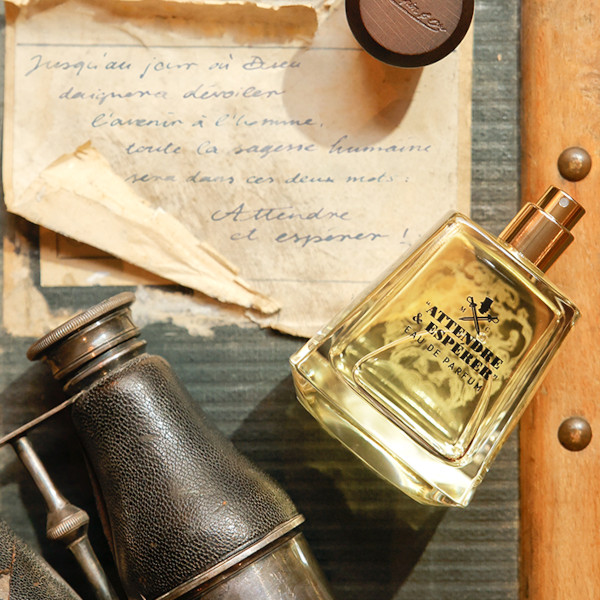 And what about the future?
Will the trend gradually run out of steam? It is not hard to imagine that the latest releases will go on to inspire other perfumers. Especially, as Mathilde Bijaoui points out, because "these facets are stepping in where sugary notes left off and continuing to explore the gourmand dimension." But above and beyond their material contribution, a new approach to playing with the olfactory texture of fragrances seems to be emerging. The creative process does not always need new notes for inspiration, but rather a fresh take on what already exists: "I'm convinced that there's still plenty to be done with classics like the tonka bean or immortelle, which is quite capable of adding a gourmand touch," suggests Anatole Lebreton.