Cette publication est également disponible en :

Français
This article was published in partnership with Symrise.
In late 2020, Symrise surprised us all by launching a collection of 100% natural ingredients produced from vegetables for its perfumers to use in creating fragrances. Asparagus, artichoke, onion, cauliflower and leek have been added to the Symrise perfumer's palette. A look at the origins of this innovation, the result of real synergy between the company's different branches of activity, with flavours, nutrition and perfumery working side by side.
In 2017, during a team meeting, Jean-Yves Parisot, then head of Symrise Nutrition, talked about a new project with the code name Garden, involving Symrise Nutrition's Diana division and flavours developed by another department at Symrise. The goal of the collaboration, since renamed Garden Lab, was to provide flavourists with a palette of 100% natural vegetable extracts. "If it can be smelled, we're interested too!" was the reaction from perfumer Alexandra Carlin, present at the meeting. A Top Chef fan always on the lookout for olfactory inspiration and new ingredients to work with, her excitement at the mere mention of asparagus, artichoke, onion, cauliflower and leek was palpable. "New ingredients that offer a new naturalness and alternative greenness and add a new gourmand dimension to our palette – it's an opportunity not to be missed," she points out.
A 360° collaboration
Bringing together skills and using exclusive in-house technology without restricting it to a single scope of application is part of Symrise's DNA. "The most obvious synergy between the group's different activities concerns flavours but there are others – some of them more ground breaking – we can work on together to create value, and that's the case with fine perfumery," stresses Jean-Yves Parisot.
Perfumers have always used ingredients from the food industry and 50% of their palette is similar to the one used by flavourists. "We help each other out a lot," says perfumer Leslie Gauthier. "When we want to create a ripe fruit note, we go and see our colleagues in the flavour department to understand how they manage to accurately represent the fruit. We also take inspiration from the natural dimensions of their flavours so we can incorporate them into our creations, by transposing and translating them into perfumes." So when the fragrance teams found out about the idea of adding 100% natural vegetables to the perfume palette, they were incredibly enthusiastic. Leslie Gauthier, still a student at Symrise's perfume school at the time, even decided to write her dissertation on the subject.
Harnessing Symrise's Symtrap technology for Garden Lab
The first real challenge was to extract odoriferous compounds from the vegetables, recognised for their high water content. As perfumer Suzy Le Helley reminds us, "distilling water is very complicated and traditional extraction methods don't work." This is where Symtrap, an exclusive Symrise innovation, comes into play. The technology, patented in 2008, is used to extract odorant compounds from an ingredient in its aqueous state. This includes rinse water or residual juices produced by the extraction, distillation and freeze-drying of plants, fruits and vegetables. The liquids, which are usually considered as waste, can now be seen as "potential gems" to quote an expression used by Jean-Yves Parisot, who describes himself as "the driving force of our kitchen – on an industrial scale!"
For the Garden Lab collection, the vegetable cooking water processed by Diana is what interests perfumers and flavourists. "When you cook a leek, aromatic steam is released. We then use a hydro-alcoholic process to collect the aroma compounds in the water. As a result, we obtain alcoholates which constitute highly concentrated 100% natural extracts," explains Jean-Yves Parisot. The company's perfumers confirm that these alcoholic solutions, obtained without the need for chemical treatment and extracted using very little energy, can be used by perfumers as easily as essential oils.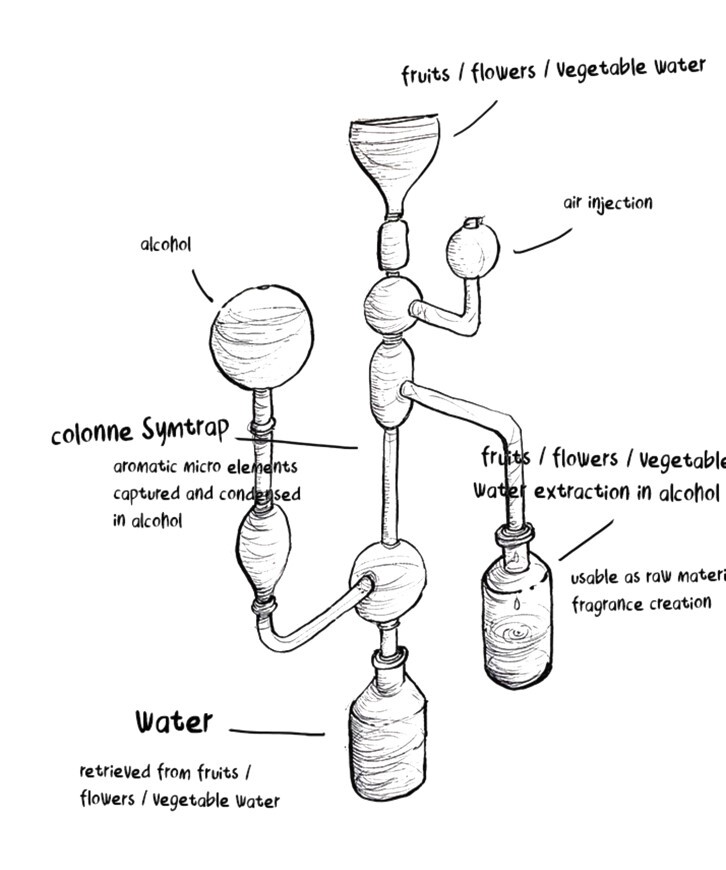 "When you think of an onion, it's hard to imagine it could be part of a fragrance!" says Leslie Gauthier. However, it is less surprising if we think about the primary function of these ingredients: "in the kitchen, an onion is rarely eaten raw, it's a flavour enhancer." The young perfumer therefore looked into the olfactory characteristics these vegetables have to offer as well as the notes they enhance. For example, as Leslie Gathier points out, the onion's sulphurous smell is the perfect partner for exotic fruits and an excellent replacement for synthetic molecules, which are often unstable but widely used to produce the same sulphurous effect.
One of the problems of working with natural raw materials is ensuring a constant supply in order to plan production and guarantee consistent quality. Symrise, however, has a sustainable production capacity thanks to a supply of 100% European vegetables processed in its Brittany-based factories. As well as a further asset: "stabilising, standardising and authenticating a natural ingredient, which is variable by definition, represents 30 years of work. That's where our expertise lies and it's what our clients are looking for when they come to Diana," explains Jean-Yves Parisot, who has now been appointed head of Symrise Flavour & Nutrition.
During the development process, the teams also discovered that these vegetables, making their debut in fine perfumery, offered interesting solutions to the issues raised by the many restrictions in place. Véronique Ferval, Vice President of Global Creation Fine Fragrances, sees the asparagus note as a new facet of galbanum. An ingredient sourced from Iran, galbanum is subject to strict regulations and its supply chains are affected by geopolitical tensions. The humble leek is used "to revisit natural, mineral and aqueous moss scents and offers an alternative to certain mosses from ancient trees – such as oak moss – whose use is limited by new regulations," says Leslie Gauthier. As for the cauliflower, it provides a totally natural and vegan animal note.
Fostering a visionary approach
As with any new captive, one of the difficulties is that in-house perfumers have to adapt to the new materials. It is not easy to learn how to measure out, blend and contrast new ingredients so they can be fully mastered. However, "working with new 100% natural captives, which are different from the natural notes we are developing at the moment, is really exciting for the team. I think it's one of the most interesting projects we're working on at Symrise in terms of exploration and proactivity," Véronique Ferval tells us.
To get a real understanding of Garden Lab ingredients, Leslie Gauthier recommends smelling them blindfolded, forgetting their names and instead thinking of them in terms of texture and imagining what they can bring to a composition and the olfactory journey they take us on. Leslie identifies asparagus as having "a grilled, grain-like aspect that brings hazelnut to mind and could be a new avenue for exploring a salty, gourmand note." Artichoke recalls the smell of rose, with a fairly similar molecular composition, and brings a greener tone to the majestic flower. More generally, "the green, soft and tender side, hinting at heart of palm, can add extra olfactory texture to floral scents," she explains.
"Our role as perfumers is to identify and set in motion the olfactory trends of the future," says Leslie. While chemical reproductions of carrot, tomato leaf and fennel already exist, until now there have been no 100% natural garden vegetable extracts. "After the trend for gourmand, slightly salty perfumes, fruits were the big thing," she points out. Now the challenge is to extrapolate these new ingredients and create brand-new addictions. Suzy Le Helley is convinced that an underlying trend is set to take over from the current sweet craze. The market is inching "closer to something saltier, more vegetal and healthier. Our Garden Lab ingredients will undoubtedly become part of the shift in our lifestyles, our desire to buy local products and seasonal vegetables." The first perfumes containing the extracts will soon appear on the market. That will be the moment of truth: will brands be happy to say that their fragrances contain asparagus, artichoke, onion, cauliflower or leek? Will consumers be willing to wear them? There are plenty of unanswered questions but, in the meantime, Symrise is already working on growing its collection.