Cette publication est également disponible en :

Français
This year, the thirteen perfumers of the composition house worked around the theme "An American in Paris." The theme was conducive to creative freedom and praise for the "captive" molecules, patented by the company.
It's a bit of a free zone, a recreation for the perfumers of the IFF composition house. Initiated in 2009, the Speed Smelling consists in leaving total freedom to the creators each year. An exercise that is the opposite of the "briefs" and constraints (aesthetic, economic, etc.) that govern their daily lives by allowing them to create a perfume that will not be marketed through traditional networks. Only a limited-edition box, available for purchase on our online store, gathers the fragrances composed for each vintage, thirteen in number this year. The objective is twofold: to highlight the virtuosity of the perfumers and to include in the formulas as many of these so-called "captive" molecules as possible, i.e., those patented by IFF. However, the creative latitude is limited: In a nod to the composition house's roots on the other side of the Atlantic, the theme imposed this year was "An American in Paris," and each perfumer had two months to submit his or her work. On June 21, the perfumers unveiled to the media their fragrances inspired by this theme defended their olfactory choices in seven-minute, face-to-face interviews with each journalist present. Hence the name Speed Smelling. Like speed-dating sessions, these interviews between individuals were punctuated by a tight schedule…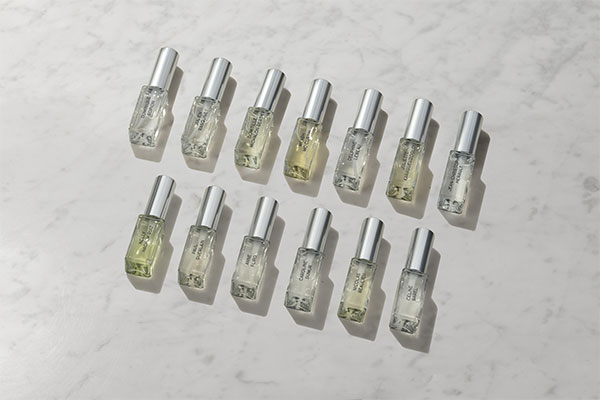 A favorite, love at first sniff? Here are our impressions of the 2022 vintage, the perfumers being presented in alphabetical order.
Céline Barel has set her sights on the stars by imagining "a fragrance as white as the moon and as round as a planet." In 2002, IFF and NASA studied the effects of weightlessness on the fragrance of several roses aboard the space shuttle Discovery. A Space Rose Living [1]This process, invented by IFF, consists of capturing a scent in situ, based on the principle of digital photography, by decoding its components to reconstitute them artificially., reminiscent of this partnership, forms the heart of the fragrance. Around it gravitates a sneakers living with synthetic accents and a base blending an overdose of LMR ambrette absolute, IFF captive musks (Edenolide and Sinfonide) and New-Caledonia sandalwood essence. Soft and enveloping.
Nicolas Beaulieu weaves a parallel between the prestigious American universities forming the Ivy League and our European oak groves. Its claimed homage to "American green chypres, symbols of 1970s perfumery" is translated into "the duality between a greenness that is both crisp and dark." At the top, Vertonic (IFF captive) fuses. The LMR lentisque absolute sourced from Morocco brings a green texture that is fleshier and more liana. A hint of animality follows with LMR narcissus absolute Conscious (grown in Lozère) before LMR Italian broom absolute warms the whole with its honeyed notes. A fragrance with timeless accents.
Caroline Dumur wanted to reconcile two visions of "clean": the American "watermelon and cucumber splash" and the French "more heliotrope and vanilla." Aldehydes and gourmet in harmonious understanding? It's a good bet. The captive Opalene propels its citrus notes, LMR's essence of polygonum and LMR pink pepper CO2 extract ensure the "clean laundry" spirit. Finally, the reassuring delicacy of LMR neroli Tunisia and the marshmallow touch of LMR Orris Ultimate finally pull the cover of this ultra-comforting, cuddly fragrance.
Anne Flipo is surfing on a delicate green and floral wave. The one initiated in 1966 by Joséphine Catapano, working at IFF and considered the first American perfumer, with her masterpiece Fidji, composed for Guy Laroche. The green register – very broad, alternately spicy, fresh and juicy – unfolds through LMR rosemary oil Tunisia, LMR's essence of clary sage from France and the essence of geranium from Egypt. With a sensitive and admirable balance, a luminous breath gradually radiates the score of its floral notes (LMR ylang Extra oil), fruity (coconut accord) and spicy (vanilla Bourbon CO2 extract).
Paul Guerlain invites you to Saint-Germain-des-Prés to share a moment with IFF perfumer Sophia Grojsman. This reverence of a young perfumer to a myth that both inspires and impresses him uses three main ingredients: isobutyl quinoline (leathery notes), C-14 aldehyde (lactone with peachy facets) and LMR orris absolute. "The arabica coffee absolute, CO2 extracted, is very subtle and completes the setting of a Parisian cafe," explains the perfumer. A tribute to femininity that is velvety, round and deep.
Nelly Hachem-Ruiz sets back her watch by 78 years. Here we are in 1944, our nostrils titillated by Coca-Cola and the blonde tobacco of G.I.'s cigarettes. The soda accord fizzes, led by lime essence, LMR fresh ginger oil and LMR Cinnamon Essential. An herbaceous blonde tobacco (composed thanks to the essence of fragrant flouve) illuminated by LMR immortelle absolute emerges from this melee by inflating the pectorals (AmberXtreme, overdosed). A beautiful and effective interpretation of the ultra-classical tobacco note.
Jean-Christophe Hérault brings together two antagonisms: the raw minerality emanating from the great American outdoors ("flint from the canyons and flint for the conquering side of firearms") on the one hand and… the very French sensuality of iris powder. The fire is ignited with the sparkling scent of Pyromist, an IFF captive powered in tandem with LMR pink pepper CO2 extract. Carnal LMR orris concrete makes its way in, escorted by smoky touches of LMR patchouli oil from Indonesia and LMR For Life vetiver oil from Haiti. Like the echo of a gunshot between two rocks, the whole resonates on a musky background of Sinfonide.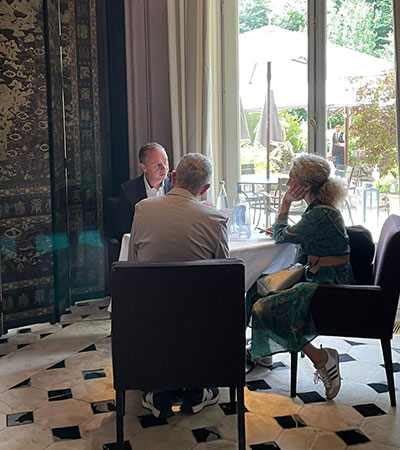 Juliette Karagueuzoglou settles her account "to two national emblems that were considered vulgar in France or in the United States: Coca-Cola and Opium by Yves Saint Laurent." The two are linked by cinnamon and vanilla. LMR's lime heart essence sparkles like a first sip of coke that is refreshed by the greenness of an IFF captive, Aquaflora. The Saffiano leather (an IFF captive) installs a sensuality enhanced by LMR Cinnamon Essential and LMR vanilla Bourbon CO2 extract (greedy) then LMR's essence of rectified oak wood (with a liquor facet). Sassy but so relevant (and, moreover, 100% in line with the imposed theme). A favorite.
Delphine Lebeau captures the smell of a very cinematic cliché: "An American has just landed in Paris. When he arrives at his hotel, he puts on a polo shirt that smells like clean laundry and goes down to the bakery to buy bread." The role of freshness of detergent is jointly provided by the captive Vertonic and an aqueous apple accord spiced with aldehydes evoking soap. In superposition, the baguette accord invades the space with pyrazines as well as Ambertonic and AmberXtreme captives. But the effect, artistically exciting and genuine, can be difficult to carry over time with regard to its dosage of pyrazines.
Meabh McCurtin, nostalgic for the pop culture of 1970s America, takes one of Andy Warhol's famous paintings of a Campbell's soup can – in this case cream of mushroom. The aim is to appropriate the artist's approach by breaking down the boundaries (which are here olfactory) between everyday life and artistic creation. This gourmand mushroom unfolds at the heart of a chypre accord combining LMR rosemary oil Tunisia and LMR vetiver oil Java. The LMR patchouli heart N.4 offers a more humid vegetal facet, while the LMR vanilla Bourbon CO2 extract and the LMR oak wood CO2 extract give the perfume a gourmand languor. A confusing and weirdly addictive experiment.
Domitille Michalon-Bertier conjures up a vegetal millefeuille inspired by the rediscovery of a 1949 IFF captive, Verdima. This molecule evoking tomato leaf is here backed by the camphorated facet of LMR armoise heart N.2, the sweet burn of LMR's Timur pepper CO2 extract and the green and patinated elegance of LMR narcissus absolute Conscious. Very complex and oscillating between vegetal, fruity and musky, this composition is draped in a veil of mystery through Cashmeran and Ambertonic.
Julien Rasquinet takes on the fruity register in its American version. "I chose mirabelle plum for its sweet tone and melon-like notes. I wanted to contain it in a subtly powdery skin scent," summarizes the perfumer. The structure is dominated by a mirabelle plum arrangement coated with lactones and LMR orange flower absolute Tunisia. The fresh, powdery and iridescent effect is provided by Sinfonide. Very legible, fruity, solar and regressive, like a childhood memory.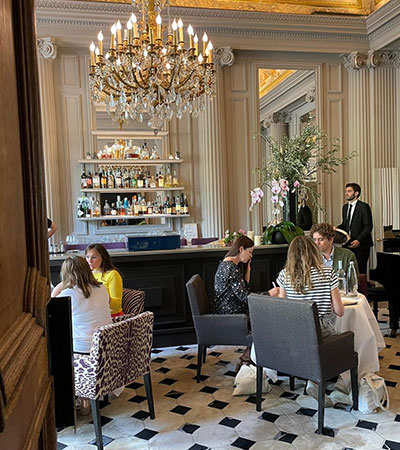 Dominique Ropion makes an observation: Green notes fascinate perfumers on both sides of the Atlantic. "More acetals and galbanum in France and Triplal, an IFF captive from the 1950s, for the United States." The perfumer combined the classicism of green notes (LMR galbanum oil Afghanistan) and fruity ones (raspberry and lychee, but also citrus) with the more modern vibe of AmberXtreme and Cashmeran. The floral facet deployed by LMR jasmine sambac absolute punctuates the whole with "a touch of French elegance." A seductive interplay between two continents, their past and their present.
To follow, in a little over an hour-and-a-half, thirteen discoveries of perfumes while listening to their creators describe their intentions is not a trivial activity. The exercise almost makes you dizzy. It is just as enjoyable when you rediscover the compositions afterward, in peace and quiet, rereading your notes. With a few rare exceptions, the first impressions are confirmed, even several weeks later. And we are waiting to see which fragrances, perhaps redesigned, could reach the shelves of perfumeries in the coming months.
Speed Smelling set "An American in Paris" by IFF, 10x11ml, €150 with booklet
Limited edition of 20, available for presale at shop.bynez.com