Cette publication est également disponible en :

Français
Nez was surprised and delighted to earn a rewarding distinction for our work since 2016 during the ceremony held on June 30, 2022 at the World Perfumery Congress (WPC) in Miami.
The Art and Olfaction Awards, which are only given to eight projects and perfumes each year, celebrate excellence in independent perfumery and raise public awareness about new developments in perfumery across the globe. They were established in 2014 by the Institute for Art and Olfaction in Los Angeles, and they are bestowed on outstanding producers in the categories of independent, artisan and experimental perfumes as well as experimental projects from all over the world.
Nez was delighted to receive the Contribution to Scent Culture Award, "given this year to a small group of people who, since 2016, have contributed to the spread of this culture, through exhibitions, international exchanges and publications. We selected them for the consistency of their work, its relevance and intellectual contribution," revealed the founder of the Institute for Art and Olfaction, Saskia Wilson-Brown.
We are profoundly grateful to have been awarded this prestigious honor by Saskia Wilson-Brown and her team whose work, for over a decade, has enabled the development, in the United States as well as other countries, of an original perfumery that is creative yet decomplexified in its approach and thus very different than the one born in Europe, which is more classical and, let's say, more institutionalized.
This award echoes the one received in 2019 during the FiFi Awards of The Fragrance Foundation, where we had the pleasure of receiving the special prize rewarding "the realization around olfaction and its graphic choices," underscoring our objective to "make perfume accessible to all publics, professionals as well as novices."
Even if an ocean and a continent separate France from California, we are proud to create a bridge between these two poles of olfactory culture.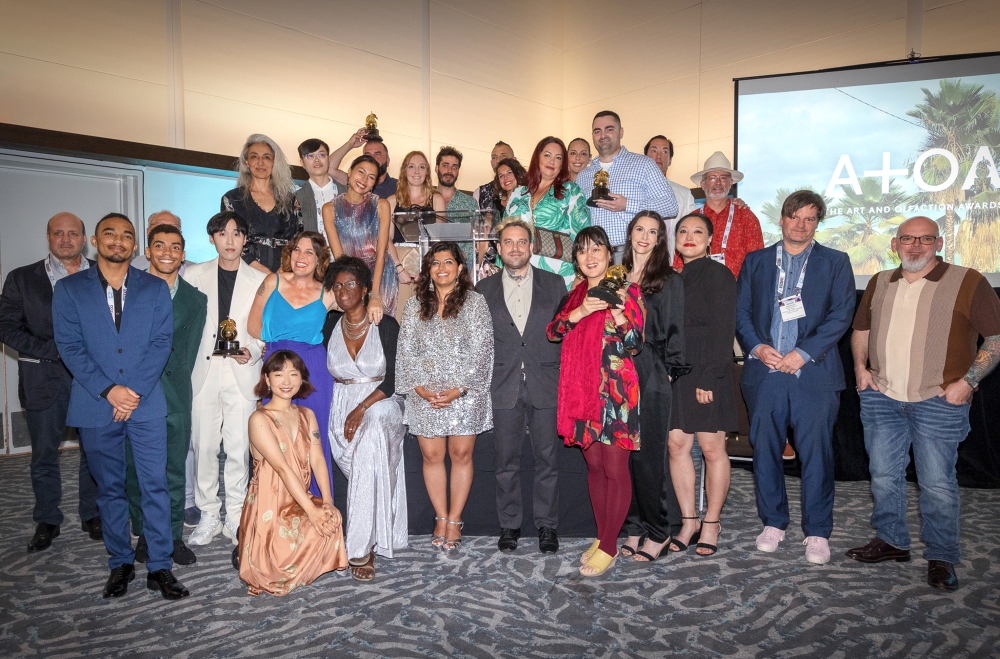 We also applaud all the people and brands that were nominated and honored during the Art and Olfaction Awards ceremony and who contribute to this vision of creativity in the perfumery sector:
In the Independent Category, one of the prizes was awarded to the brand Pan Seven for its composition Aged Tea, signed by Pan Yu Ching and Huang Chien Shun, who were inspired by the "quiet and mellow charm of aged Taiwanese tea." 
Grandiflora received the other prize in the Independent Category for its perfume Saskia, named after its creative director, Saskia Havekes. Authored by Christophe Laudamiel and Ugo Charron, it transposes "the literal and spiritual essence of a tiny room where flowers and things that grow have been worked."
The Artisan Category also recognized two fragrances. The first was Mayan Chocolate, composed by Amber Jobin for Aether Arts "as a homage to the origin and source of chocolate within the many cultures of Mesoamerica."
For the other, it was the work of perfumer Michael Wong for One Day that was chosen. Oolong Tea reveals notes of "roasted oolong tea leaf, with a gourmand note of glutinous rice and honey, and the ambiance of the teahouse." 
The Aftel Award, named after the perfumer known for her reference book, Essence and Alchemy, recognizes a handmade perfume. This year's winner was Behold, Patchouli, signed by Daniel Gallagher, who won it for fostering "a magnified look at this wondrous material" well known in perfumery. 
Recognizing experimental work around scent, the Sadakichi Award went to the installation titled "Viral Parfum" representing the different mutations of COVID-19 around six scent accords proposed by the olfactory artist Maki Ueda.
Finally, the Septimus Piesse Visionary Award, which honors "an outstanding person showing proof of exceptional vision with regards to how scent is used, developed or imagined," was bestowed on Mandy Aftel. 
For more information about the Art and Olfaction Awards or this year's honorees, visit: http://www.artandolfactionawards.org/
Main image: Dominique Brunel, cofounder of Nez and Saskia Wilson-Brown, founder of the Art and Olfaction Awards, © Institute for Art and Olfaction